Celebrity Beyond Ship Review on Inaugural Sailing – Cruise Maven
Do you assume that your friend's sister will be just as wonderful as she? I was excited to do this Celebrity Beyond review because that's exactly how I felt after having sailed on Celebrity Apex.   
Being familiar with other ships in Celebrity's Edge Class Series, I had high expectations for Celebrity Beyond. How could they improve on a ship that I felt met all of my requirements for a memorable sailing experience?
I couldn't wait to set foot on Celebrity Beyond, even if only for the short inaugural cruise. 
Celebrity Beyond Review 
For my Celebrity Beyond review, I share my insider opinions, impressions and unbiased opinions of Celebrity Beyond.  Read on!
Fast Facts – Celebrity Beyond
Year built: 2022
Weight: 140,600GT
Decks: 17
Passengers at double occupancy: 3,260
Crew: 1400+
Total staterooms: 1,646
Celebrity Beyond Inaugural Itinerary
My experience on Celebrity Beyond consisted of a two-day cruise to nowhere from Southampton, England. The purpose of the cruise was to introduce the new ship to the world.  
Pre-cruise Overnight Stay at Heathrow Airport
It's always prudent to arrive a day early for a cruise, especially if flying across the ocean. Fortunately, my flight arrived on time, but getting through the airport took a lot of time. My hotel, Hilton Garden Inn, connected to the airport.
Crossing time zones takes its toll on many of us and I have yet to discover the best tactic for recovering from the change quickly. Fortunately, the hotel had a room ready and I immediately took a nap.  
Boarding Beyond in Southampton
None of my previous cruises sailed from Southampton. Not only would I be experiencing a new ship, but also a new port.
Checking In
The simplified process of boarding a ship has shortened the time immensely.  Agents carry tablets and quickly get your details.  Of course, I had pre-registered on the Celebrity app.
With the boarding process completed, I immediately went to my stateroom and dropped my carry-on bag.  Off I went to explore the new Celebrity Beyond.  
Celebrity Beyond First Impressions
Having sailed on Celebrity Apex the summer before, I felt so comfortable and at home as I boarded Celebrity Beyond. Since this cruise lasted just two nights, it helped a lot to already know the layout of the ship and where everything was located.
The familiarity would come in handy for this Celebrity Beyond review, with only two days to gather intel.
Like other ships in the Edge Series, Celebrity Beyond exudes a relaxing atmosphere. Relaxation and vacation go quite well together for me. I immediately felt the stress of the past few hectic days of travel dissipate. 
Infinite Veranda Stateroom
One of the clever concepts that Celebrity has incorporated into their Edge Series ships is the Infinite Veranda. More of a balcony within the room, it gives the illusion of a tradition balcony while at the same time creating more space in the stateroom.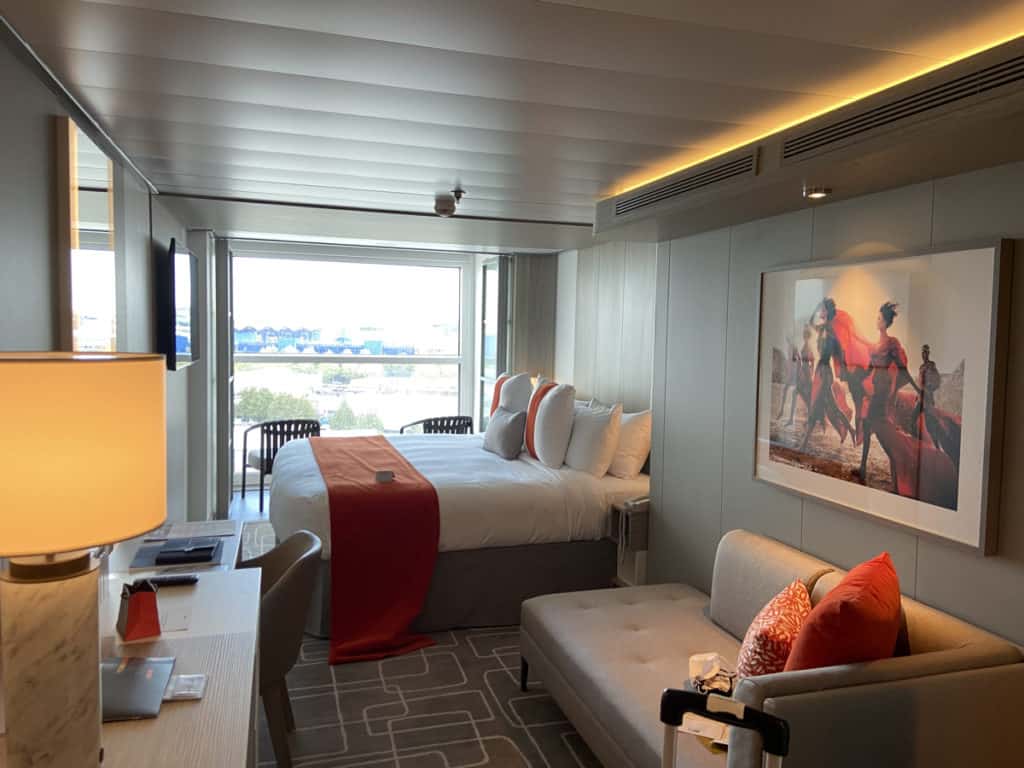 My stateroom was on Deck 11 in the Concierge Class. That class includes the services of a concierge along with other perks. Some of those include a Welcome Aboard luncheon, pillow menu, upgraded bath amenities, priority disembarkation and more.
The cabin itself suits anybody looking for relaxation. I really appreciate the calming décor here and throughout the ship. I had plenty of storage space and the sofa in the room is perfect for relaxing.
There were plenty of USB ports and electrical outlets. The balcony doors can be controlled with the push of a button. The app can open the stateroom door.
A control panel changes the lighting settings or the temperature with the push of a button. This panel also controls the blinds. Settings include morning, movie, evening and sleep options.
Be sure to notice that the desk can be made smaller if the small extension is slid into the main part of the desk. And don't miss the storage inside the curved cabinet. I was pleasantly surprised to find a pair of binoculars on the inside shelf.
READ NEXT:  Celebrity Edge Cruise Ship Review and Photos
Standard Celebrity Beyond Bathroom
Bright and cheery, the efficient bathroom has plenty of space for storing your toiletries on shelves near the sink. Under the sink, there is a shelf that also functions as extra storage.
The shower comes equipped with a Hansgrohe shower head with plenty of power.  The toiletries in the shower are not the combo body wash and shampoo that seem to be common on other ships. 
INSIDER TIP:  My stateroom had the bed near the veranda.  If you want to invite friends over, I highly recommend getting a stateroom with the small sofa near the "veranda".  The sitting area and Infinite Veranda make a comfortable meeting place with plenty of seating.
Dining on Celebrity Beyond
Two nights on the ship meant I only had two dinners for my Celebrity Beyond ship review.  Luckily, both dinners were in specialty restaurants: Rooftop Garden and Le Voyage.
Rooftop Garden Grill is located on Deck 15 right behind Rooftop Garden. Having dined here on other ships, I always noticed the problem with the wind here. This time, it seemed that new barriers resolved the wind problem.
Think of this al fresco spot as serving upscale picnic food. Options included beef, fish and veggies. Familiar sides like mac and cheese, baked beans and creamed corn add to the picnic theme.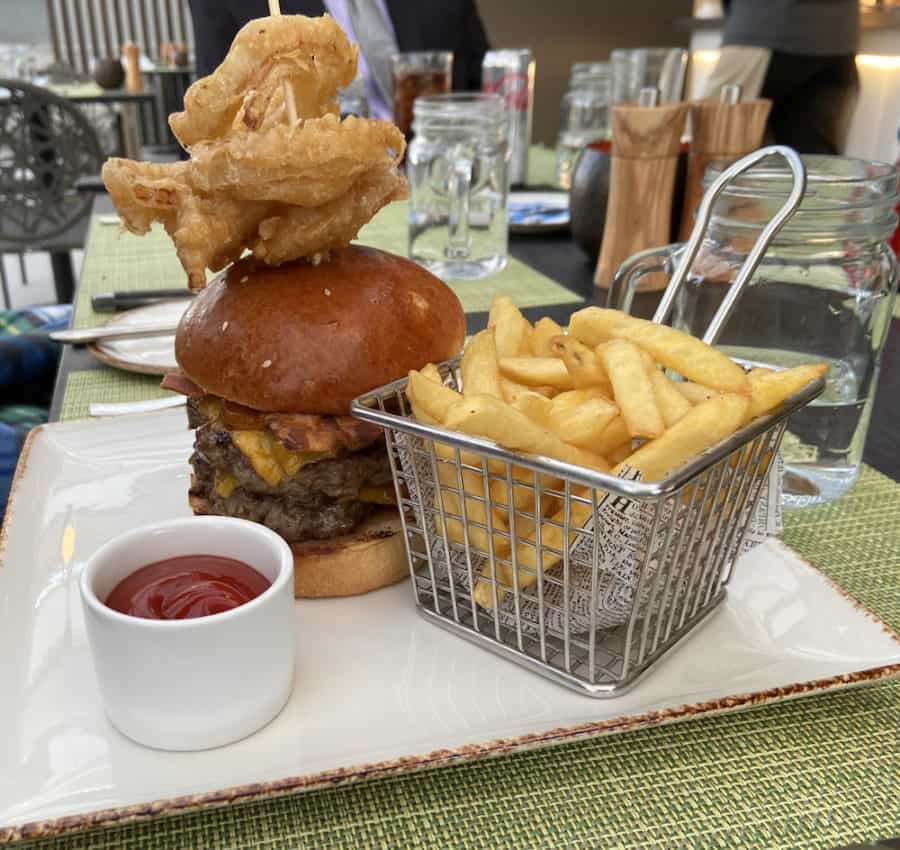 The cost for dining at this venue is $45 per person. It's definitely worth a try just for the outdoor atmosphere. For those fans of smoked meats, you will find several options here.
Le Voyage made its debut on Celebrity Beyond.  Created by celebrity chef Daniel Boulud, Le Voyage takes specialty dining to a higher level. This intimate restaurant offers dishes influenced by the culinary traditions of several countries.
I started my three-course meal ($75) with the Vidalia Onion Tart Endive. For my main course, I settled on Argentinian Filet Mignon with Chimichurri Compound Butter and Grilled Vegetables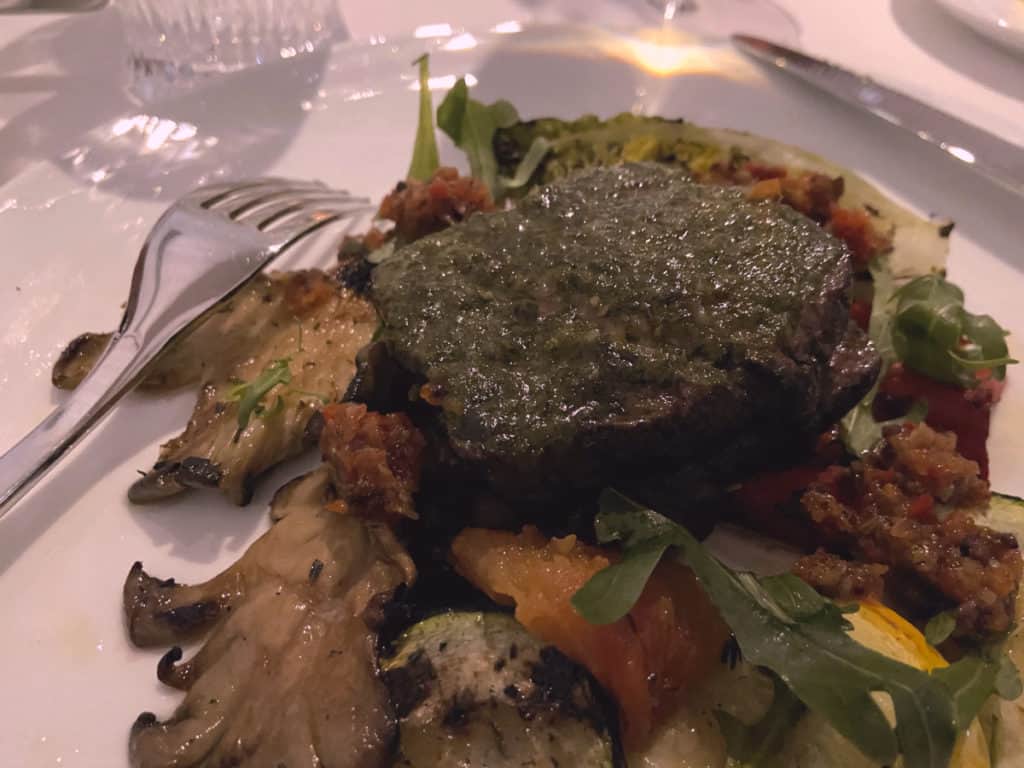 Choosing just one of the many interesting dishes from the menu proved difficult.  I immediately eliminated the seafood dishes.  That still left choices like chicken, lamb and pork chops.
Even selecting a dessert required much thinking.  I ended up with Sauerkirsche Black Forest Cake. It was the perfect ending to a memorable meal. 
As if the food itself isn't impressive enough, the design of Le Voyage creates an intimate ambience. Designed by Jouin Manku, the space uses soft tones and glass flutes for lighting.
Although small, the room gives diners space from other patrons, creating an almost private dining experience.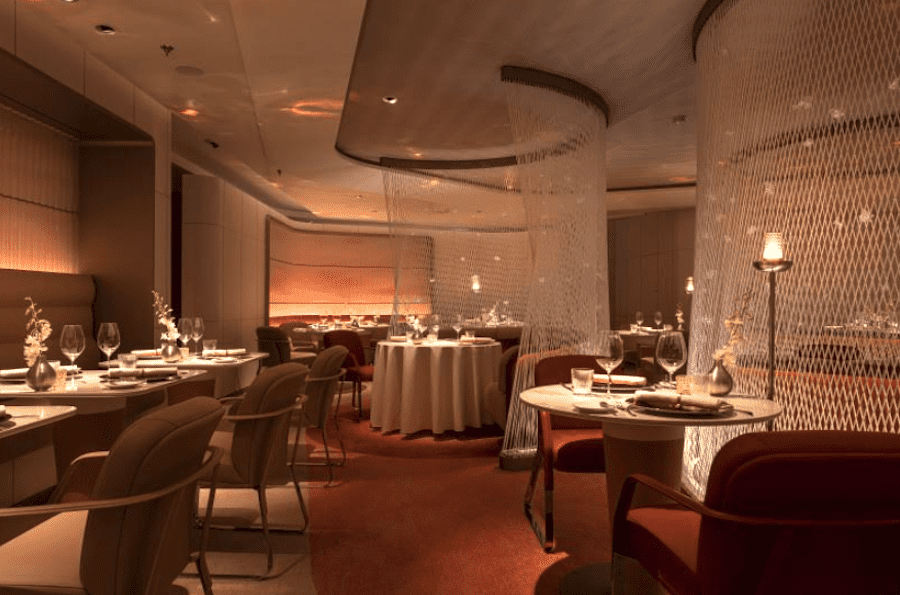 Other Dining Options
Four main dining rooms on Celebrity Beyond focus on different areas of the world.  Although the menus are mostly the same, there is a signature dish in each of these restaurants.
The four main dining rooms won't disappoint.  Basically the same, they do serve some dishes special to that particular dining room. Cyprus (Mediterranean), Cosmopolitan(World), Normandie (French) and Tuscan (Italian) give a hint to the signature dishes of those themed dining rooms.
Specialty Dining – Act Quickly to Reserve
If specialty dining appeals to you, be sure to make reservations either through the Celebrity app or with the restaurant reservation desk as soon as possible.  Celebrity Beyond offers several specialty restaurants.
For an additional fee, you can dine at Fine Cut Steakhouse, Raw on 5 (sushi and seafood), Le Grand Bistro (French), Eden Restaurant (contemporary fine dining) and Le Petit Chef (animated dining experience) serve dinner in smaller venues.
Complimentary dining venues include the Oceanview Café (buffet), Mast Grill, Spa Café and Juice Bar, and Eden Café. I visited the latter deli-style venue and enjoyed my lunch out on the deck.
INSIDER TIP – One of my favorite lunch spots is Eden Café.  In the Eden area, this deli offers a carving of the day with freshly made sandwiches.  Salads and desserts are also found there.  It's generally not crowded mainly because not too many people know about it, but be sure to check on opening hours.  A nearby bar serves wine and other beverages.
Guests staying in suites gain access to a private dining room, Luminae at The Retreat. Blu is the restaurant with healthier fare for guests staying in AquaClass.
Bars and Lounges
Scattered throughout Celebrity Beyond, themed bars and lounges welcome guests. One of my favorites is the Martini Bar. Not only do they make interesting martinis, the bartenders often put on shows.
The setting for the Martini Bar is in the expanded Grand Plaza and ideal for socializing.  It's a great place to meet up with friends before or after dinner, too. 
The Grand Plaza is also heartbeat of the ship. Spanning three-stories, it offers plenty of conversational spaces, a large chandelier with a light show and the Martini Bar.
There are so many different bars – and a popular coffee and sweet shop – Café al Bacio, to try. The charging ports in the main Café al Bacio are a thoughtful addition.
I really wanted to try Craft Social, a bar that Celebrity claims 40 handcrafted boutique beer selections. I asked for a dark beer and the choices were just Guinness and Newcastle Brown. What a disappointment.
There was a selection of other beers, but I wondered if perhaps there was a supply chain issue as neither of those two dark beers are what I would consider handcrafted or boutique.
What a shock to hear that the most popular beer at this venue is, wait for this, BudLight!!!!!!!!
Entertainment
With just two days to complete this Celebrity Beyond review, I couldn't attend all of the shows, but I did try!  Arte is a show with works of art as a background to dancing, acrobatics and visual effects.
Elements, like Arte, also uses state-of-the-art technology to showcase acrobatics and costumes in combination with floating fabric.
If you ever experienced a show at "Eden" on Edge, you either loved it or hated it.  "Wonder" at Eden took away some of the in-your-face, interactive performances that first appeared on Celebrity Edge. 
This late night show doesn't invade personal space.  Acrobatics and other daring feats still are common in the performance.  The show is much less intense than the originals and definitely worth seeing.
A Few of My Favorite Things
The overall design and décor of Celebrity Beyond define relaxation. The Sunset Bar aft of the ship has been expanded and re-designed.
Designer Nate Berkus adds his touch with elements inspired by world destinations. The multi-level seating areas add a modern flair to Celebrity Beyond.
For Suite guests only, there's the private Retreat Bar.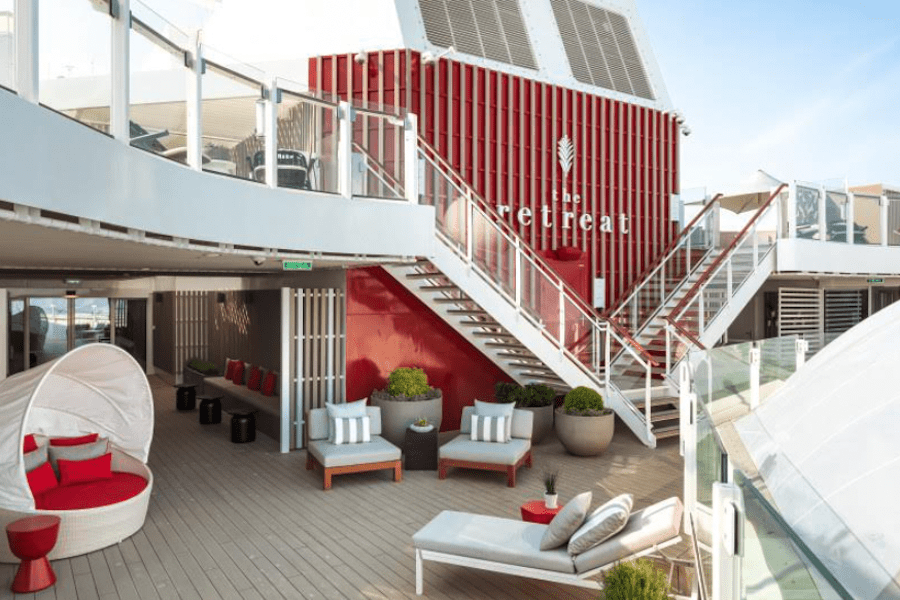 Edge Class Magic Carpet
The Magic Carpet, cantilevered over the ship functions in many ways. Found only on Celebrity's Edge Class ships, it's used as a bar, a restaurant and a platform for boarding tenders. It moves between decks during the day.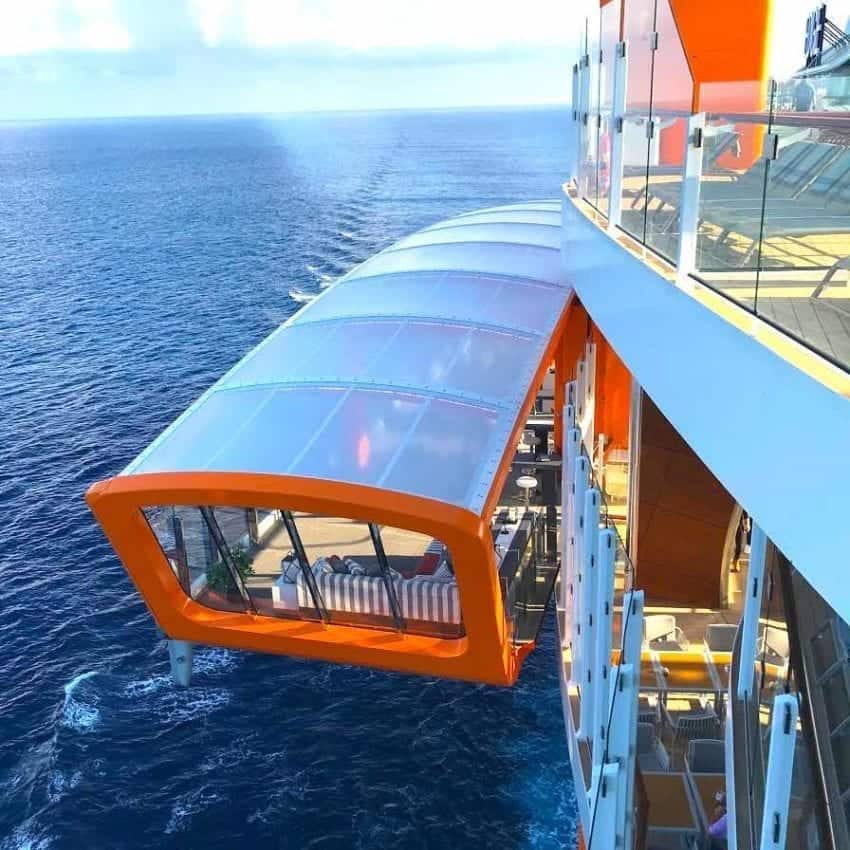 Don't miss the shopping area on Celebrity Beyond. Inside, you will find so much more than kitschy souvenirs. Many of the products come from areas on the itinerary. I joined a tour and witnessed the introduction of the Stella McCartney line of products.
Public Areas
For gamblers, the casino includes both slots and tables in a smoke-free environment.  Unlike some other cruise line casinos, you're an instant a member of the casino rewards program, Blue Chip Club and start earning points with each game.
The Spa provides a calming space with treatment rooms, a thermal area and hair salon and barber.  Access to the thermal area comes with a charge.  Guests staying in AquaClass category cabins have complimentary use of the SEA Thermal Suite.
Just above the spa area is a well-equipped gym. There is a jogging track that spans two levels between Deck 15 and 16.
On the Resort Deck, a large pool is surrounded by loungers and cabanas. Right next to the main pool, the Solarium offers an adult-only area with another smaller pool. Just above the spa area is a well-equipped gym. 
In the walkway that leads from the lower to upper level of Eden, there is a small guest-stocked library. This is the spot to find a book to enjoy during the cruise and leave a book for the next guests to enjoy
Disembarkation
Being just a two-day cruise, self-assist disembarkation was the norm. The process was quick and efficient. Although we had to wait for the bus to fill to return to Southampton, the process was unremarkable.
Parting Thoughts
Sailing a new ship always involves the excitement of experiencing something new and improved. But returning to a familiar ship is like visiting an old friend.  This really helped me compile notes for my Celebrity Beyond review.
Their "purchase with purpose" philosophy sells brands and collections that support women's empowerment, sustainability, wellness and local artisans. They also have clothing such as swimwear that fits a variety of body sizes.
Seeing all of the improvements to this Edge Class ship like the expanded Sunset Bar and The Retreat impressed me on several levels. The aesthetics elicit an approving response. The more subtle realization is that Celebrity doesn't settle with what already seemed a beautiful ship, but continues to tweak it even better.
That commitment to keeping an on trend and guest-pleasing product says much about the Edge Series.  This ship really takes guests Beyond!
Disclaimer: I was hosted by Celebrity Cruises, but all opinions in this review of Celebrity Beyond are my own.
Theresa Russell
Initially hesitant to cruise due to misconceptions, Theresa Russel first sailed French Polynesia, quickly becoming a convert to this style of travel. Since then, she has sailed on big and small ships on many of the oceans and rivers of the world. Having won awards for her words and images, she continues to seek new experiences and adventures throughout the world to write about and photograph.