Perfect 2 Days In Milan Itinerary | 2022
Thinking of spending 2 days in Milan? This wonderful city in Lombardy is the perfect destination for a weekend break! 
Not only is it well connected and easy to reach from all over the globe, but it has a distinctly cosmopolitan feel that sets it apart from many other Italian cities. Widely known as one of the major fashion capitals of the world, it is a mecca for international students and has a skyline filled with modern skyscrapers. 
Ready to travel again? Don't go without travel insurance.
I recommend SafetyWing Nomad Insurance. I've been using it since 2019 and I can assure you it's the perfect solution for nomads like you and me.
But you can still experience a taste of culture and tradition here too, with museums to explore and beautiful architecture to admire. Plus, of course, there's all that excellent Italian cuisine to indulge in!
If this is your first visit to the city, you may be wondering what to do in Milan in 2 days. To make it easy for you to plan your trip, we've put together this comprehensive itinerary.
Filled with suggestions for what to do each morning and afternoon of your visit – plus our recommendations for some of the best places to dine and stay – it will help you make the most of your time in this charming and welcoming city.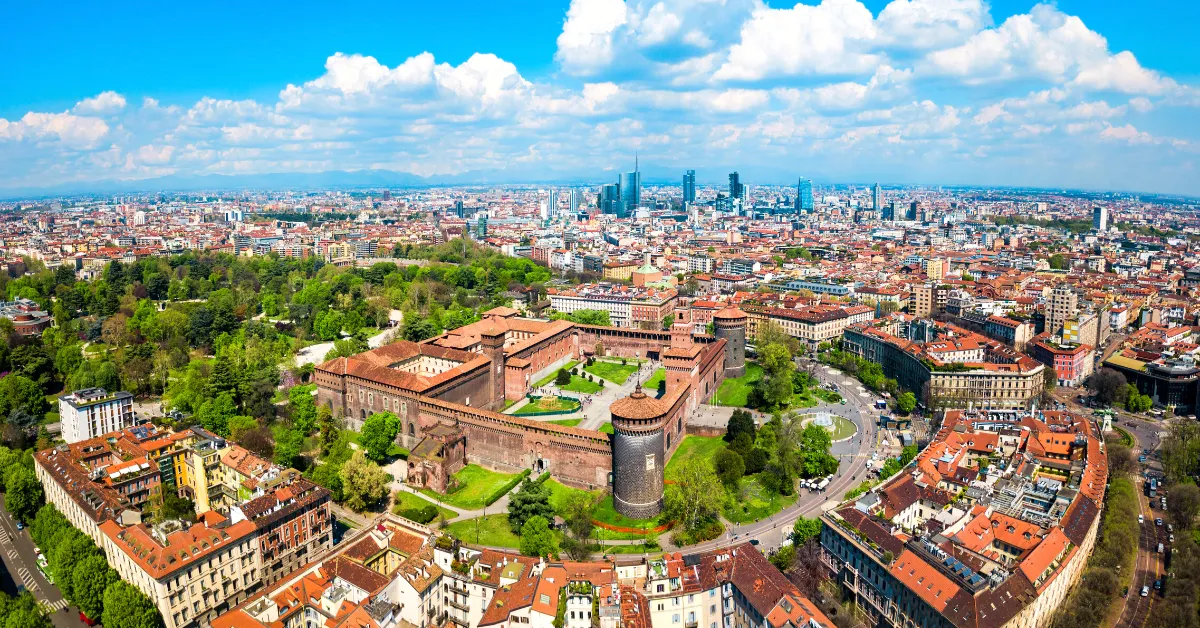 Day 1
On the first of your two days in Milan, you'll be visiting some of its most famous attractions, relaxing in its beautiful park, then taking in the sights and sounds of the canal district of Navigli.
Morning 
Your morning starts with breakfast at one of the many historical coffee shops along Corso Vittorio Emanuele, Milan's most important pedestrian street. 
To do breakfast the Italian way, order a cup of cappuccino accompanied by a cornetto –  a traditional Milanese pasty either served plain or with a jam, chocolate, or custard filling.
The first stop after breakfast is the Duomo, Milan's cathedral, which is located nearby. This magnificent building took almost six centuries to complete and dates back to the early 14th century.
It is Italy's largest church and the second largest in Europe, which gives you an insight into its sheer scale. 
The highlight of any visit is to climb to the vast terraced rooftop and enjoy the spectacular views of the city. You can also get a good look at the incredible rooftop spires and sculptures while you're there!
You will need a ticket to access the rooftop and the interior of the cathedral. The rooftop can be reached via an elevator for anyone with mobility issues.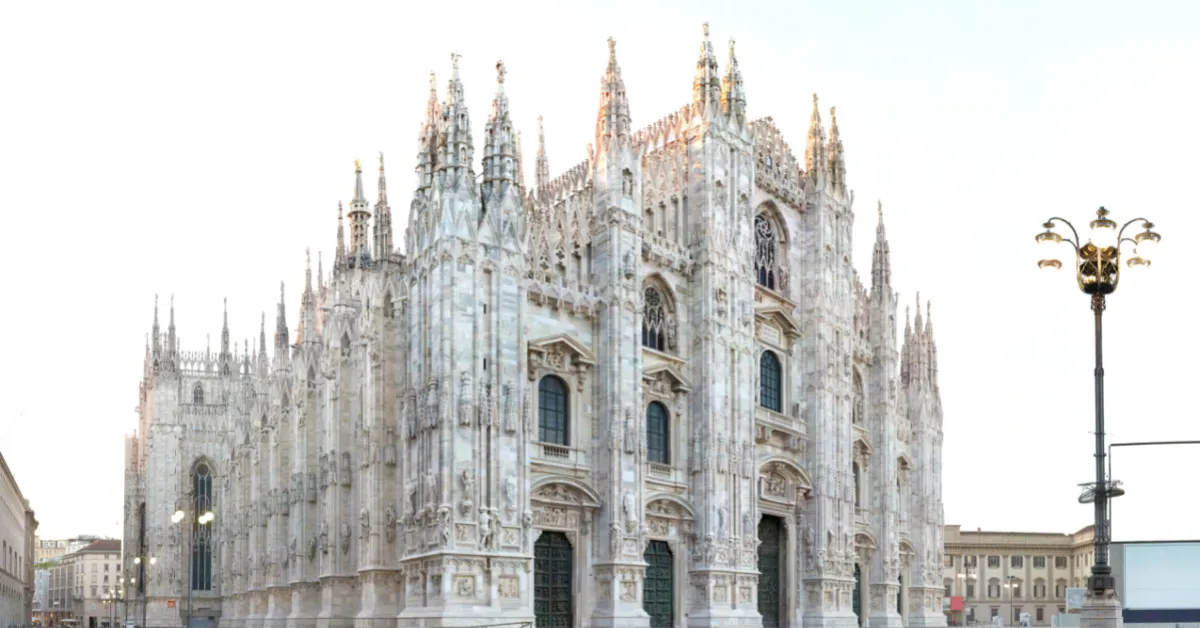 Your next stop is the Galleria Vittorio Emanuele, one of the world's most impressive shopping arcades. But don't worry if you don't feel like shopping at this point, because this breathtaking mall is a 'must see' for its beauty and historic interest. 
Dating back to 1865 it is the oldest shopping arcade in the country. It was named after Italy's first king and features a stunning iron and glass dome. 
If you can't afford anything in the luxurious stores and boutiques it houses, then you can content yourself with admiring the splendid window displays and mosaics. 
Once you've walked through to the other side of the Galleria you'll come to the iconic (and lively!) Piazza della Scala. Home to Milan's opera house – La Scala – it also features a white marble statue of Leonardo da Vinci.
You can take a guided tour to see the inside of the opera house and its museum, which is well worth seeing if you have time.
To complete your morning, head to Piazza Mercanti (Merchant's Square). This was once the heart of the city, and you can see the Palazzo della Regione and other important buildings here.
It's time to stop for lunch now, and our recommendation is to try Panzerotti Luini, just a 5-minute walk away. This bakery specializes in panzerotti turnovers – tasty treats made with filled pizza dough that are similar to calzones.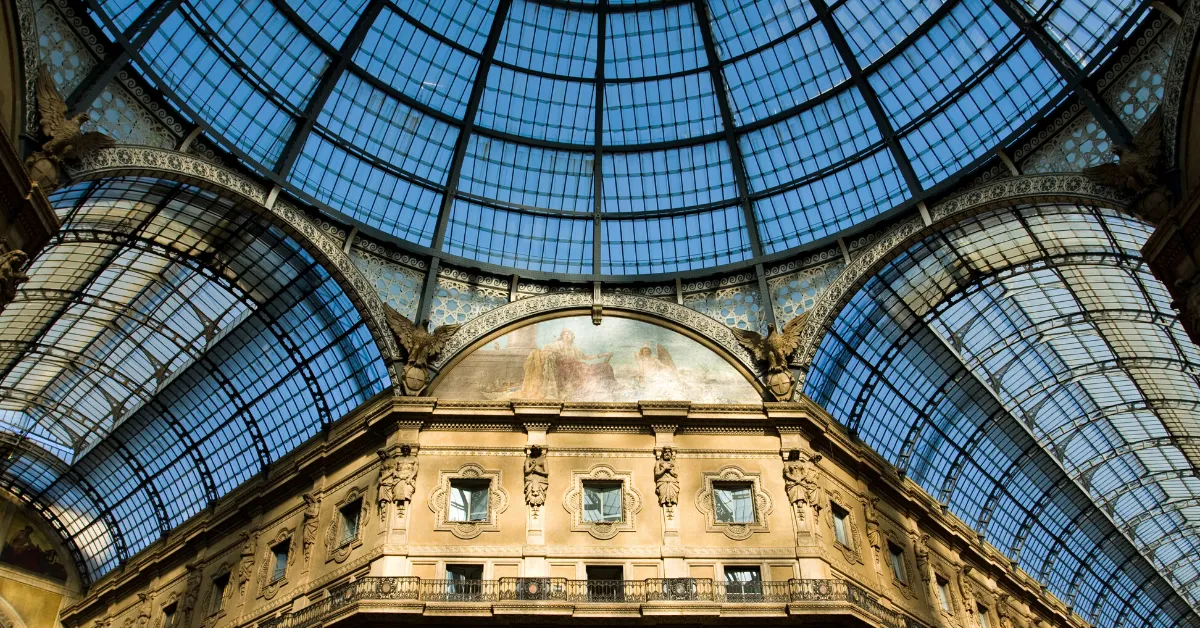 Afternoon
A 15-minute stroll along Via Dante after lunch will take you to Castello Sforzesco, located on the southern edge of Parco Sempione. 
This medieval fortification is the most impressive in Lombardy and was constructed in the 14th century by the Visconti family. Francesco Sforza later converted it into the fabulous castle you see now, commissioning artists like Leonardo Da Vinci to decorate it.
Today you can visit the art collections and museums it houses, or wander round the lovely grounds. We definitely recommend the art exhibitions if you have time, as they contain masterpieces by the likes of Michelangelo, Bramante, and more.

Be sure to take a peek into the moat, where you are likely to see many feral cats who call the castle home. They were originally encouraged to the area to keep the local rat population under control.
There is no charge to visit the open areas and courtyards of the castle, but you will need tickets to visit the art collections and museums. Alternatively, you could book a guided tour.
Once you leave the castle, take time to appreciate the park in which it sits. 
Sempione Park is Milan's largest urban park, covering 95 acres and home to the Arco della Pace (Arch of Peace). The construction of this triumphal arch began in 1807 to commemorate the victories of Napoleon, although it wasn't actually completed until 1838.
At the end of the afternoon, head towards Navigli. This canal network dates back to the Middle Ages and was originally constructed to connect Milan to the Adriatic's commercial ports. 
It is only in recent years that the neighborhood surrounding them has become popular, and it is now a great place to visit. 
Colorful buildings line the streets, housing boutiques, cafes, vintage stores, and art galleries. Step off the beaten path and you are likely to find quaint little artist's studios hidden away on the side streets.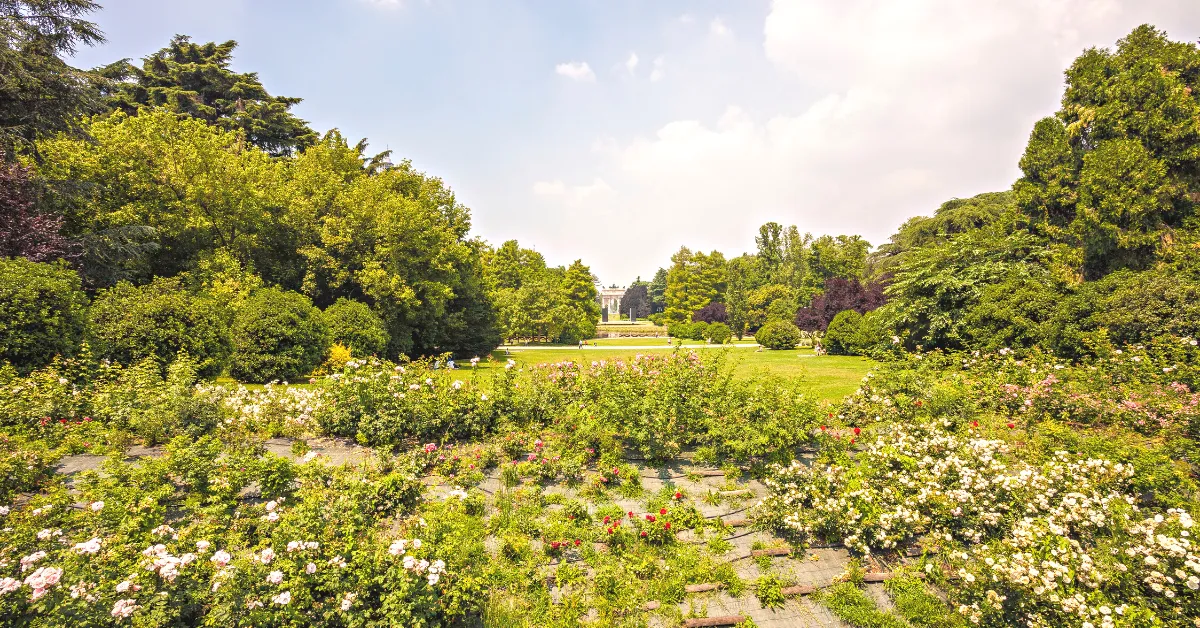 Evening 
After strolling along the canals as the sun goes down, it's time to do as the locals do and enjoy an aperitivo.
This Italian tradition is a prelude to dinner where you'll enjoy drinks and some light snacks. The Navigli district is the best place to enjoy authentic, affordable aperitivo in Milan.
Day 2 
On the second day of your weekend in Milan you'll be visiting the city's only UNESCO World Heritage site, seeing some of its beautiful churches, then enjoying a little retail therapy.
Morning
You'll need to book tickets to this morning's main attraction – the church of Santa Maria delle Grazie – well in advance of your visit. People flock to this UNESCO World Heritage site from all over the globe to see one of the most famous works of art in the world – Leonardo Da Vinci's 'The Last Supper'.
Created in the 15th century, this painting covers a wall in the church's refectory. To preserve it, the rules for visiting are very strict.
Only 30 people may visit the painting at a time, and each visit is restricted to 15 minutes. As you can imagine, these tickets are in high demand!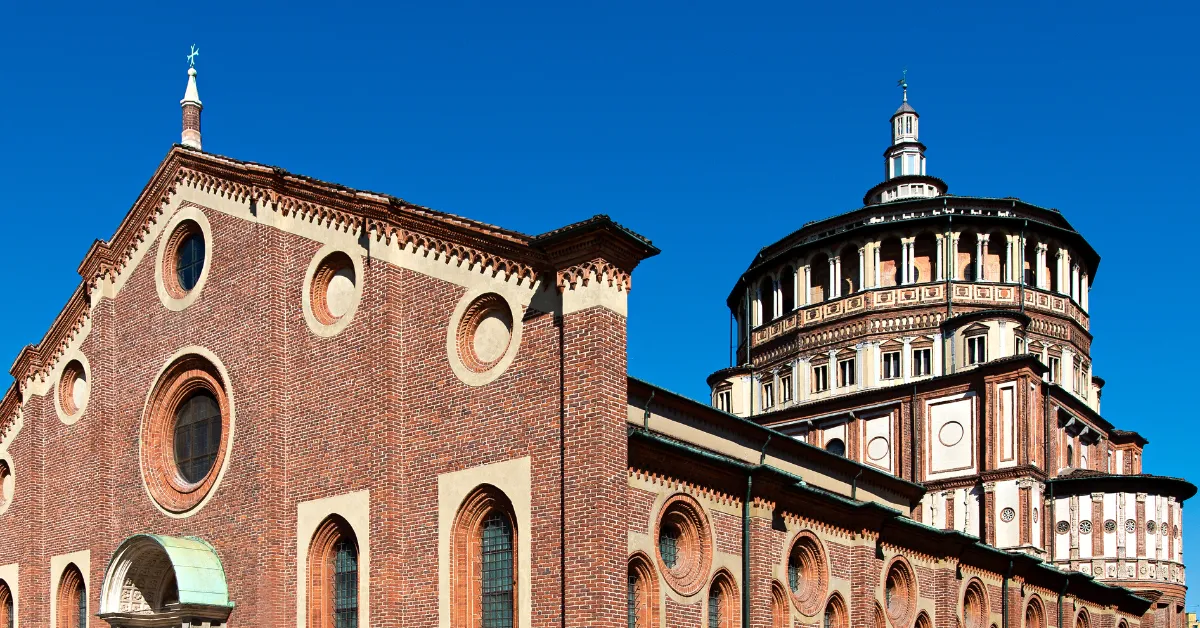 From there, head to the beautiful Basilica of Sant'Ambrogio. Built from 379-386 by St. Ambrose, it is one of Milan's oldest churches.
Its reconstruction in the Lombard Romanesque style you see today didn't take place until the 12th century.
Just a short walk away is San Maurizio al Monastero Maggiore. This church doesn't look like much from the outside and you might be tempted to give it a miss.
But its nickname of 'Milan's Sistine Chapel' will give you a clue as to the quality of the artwork you'll find inside. 
To round off the morning, visit the Pinacoteca Ambrosiana (Ambrosiana Library). It was established in 1618 by Cardinal Federico Borromeo and is now one of Milan's best art galleries, with works by Leonardo da Vinci, Titian, Raffaello, and many more.
Afternoon
It would be unthinkable to see Milan in 2 days without setting aside time for some serious shopping!
The most popular spot is the 'quadrilatero della moda' – the fashion quadrilateral, home to the fanciest boutiques and high-end brands. 
Via Montenapoleone and Via della Spiga are the most exclusive (and expensive) streets here, but if you are looking for some great shops with more affordable prices, head to Corso Vittorio Emanuele II instead.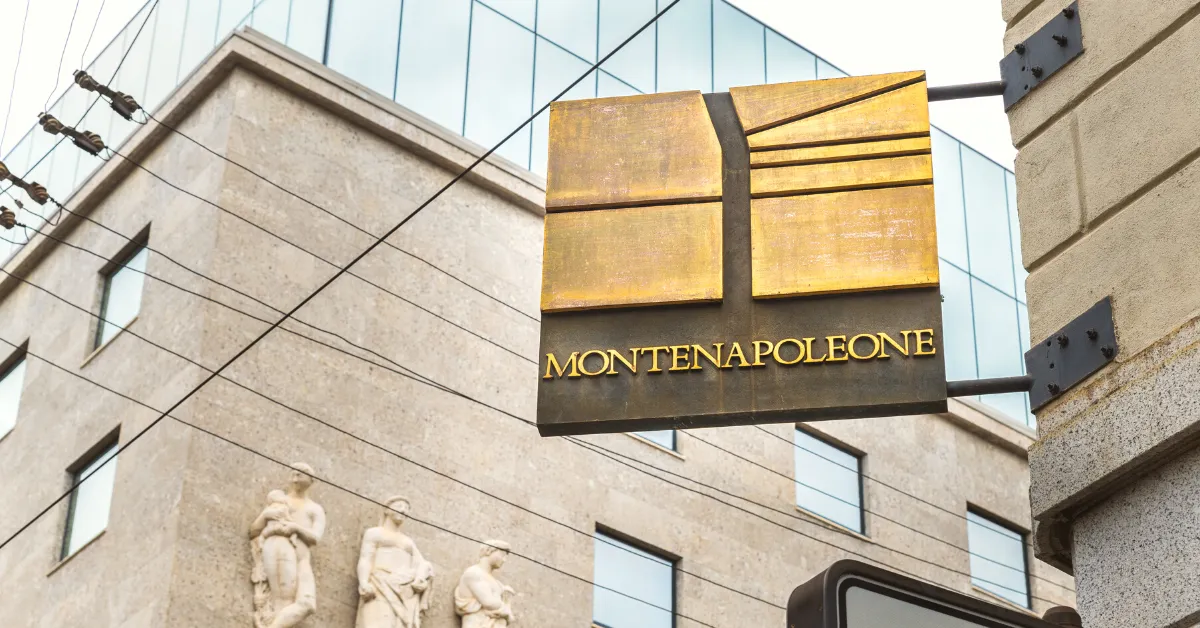 If food shopping is more your style, then you're in luck there too. 
The Wagner Municipal Market is not your typical tourist spot but is easy to reach from the Wagner metro station and well worth a visit, with lots of local foods on offer. 
On Friday mornings you can visit the Porta Romana Open Air Market which sells everything from food to clothing. 
Evening
A lovely way to finish your two days in Milan is with dinner at Osteria di Brera in the Brera district. 
It is famous for its seafood, but everything – from its risotto to its pasta – is simply exquisite. The atmosphere is welcoming, the wine list excellent, and the prices reasonable considering the quality of the food.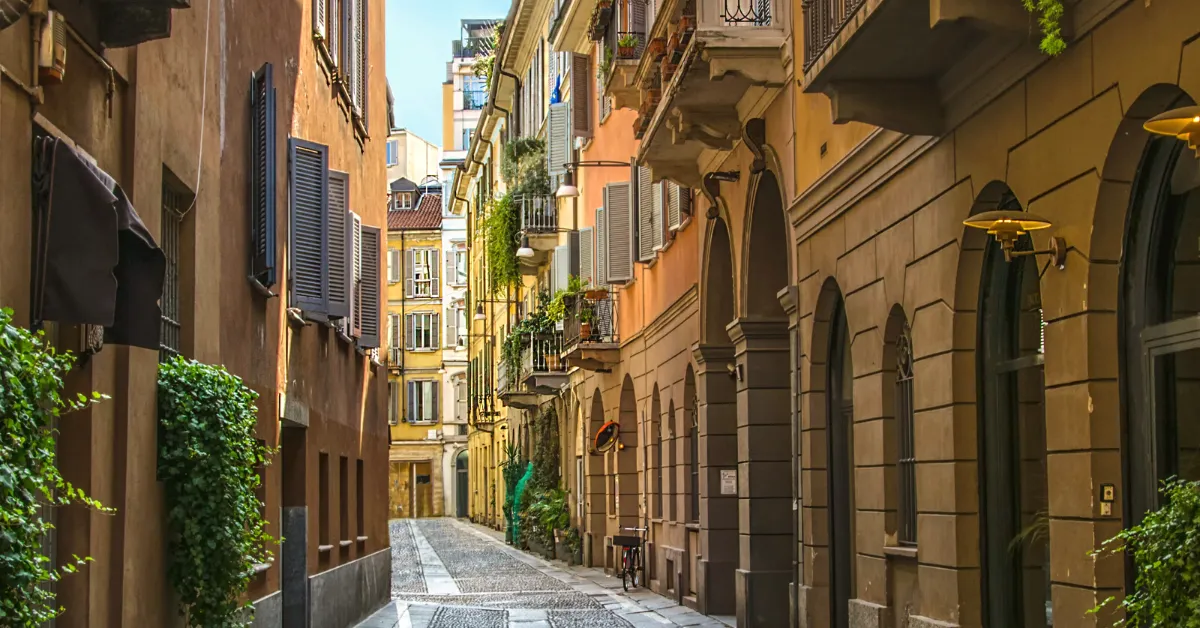 Are 2 Days In Milan Enough?    
Thanks to its compact size, you can easily see Milan in two days. Public transport is excellent, although most attractions listed here can be easily reached on foot.
Just remember that this itinerary requires 2 full days in Milan. If you have a late arrival or early departure time, you might need to add an extra night to fit everything in!
---
---
Where To Stay In Milan
Here are some of our favorite places to stay in Milan, with ideas suitable for every budget.
Best Budget Accommodation
The popular Ostello Bello Grande Hostel enjoys a convenient location next to Milan Centrale Train and Metro Station. Featuring a selection of en-suite rooms and shared dormitories, it is decorated in a contemporary style.
Guests love the vegetable garden, BBQ facilities, and rooftop terrace with hammocks, which is a great place to meet up with other travelers.
Best Mid-Range Accommodation
The fabulous Rosso Segnale Milano is a unique and quirky guest house with its own garden, rooftop terrace, and art gallery! Each of the en-suite double rooms is individually decorated, with antique furniture and private balconies.
Located near the shops of Corso Buenos Aires, this accommodation is 100 yards from Loreto Metro.
Best Luxury Accommodation
If you want to spend your 2 days in Milan in the lap of luxury, then book your stay in one of the rooms or suites at the Hotel Indigo Milan – Corso Monforte. Located just 900 yards from the city center, it offers an extensive, seasonal buffet breakfast and stunning decor throughout.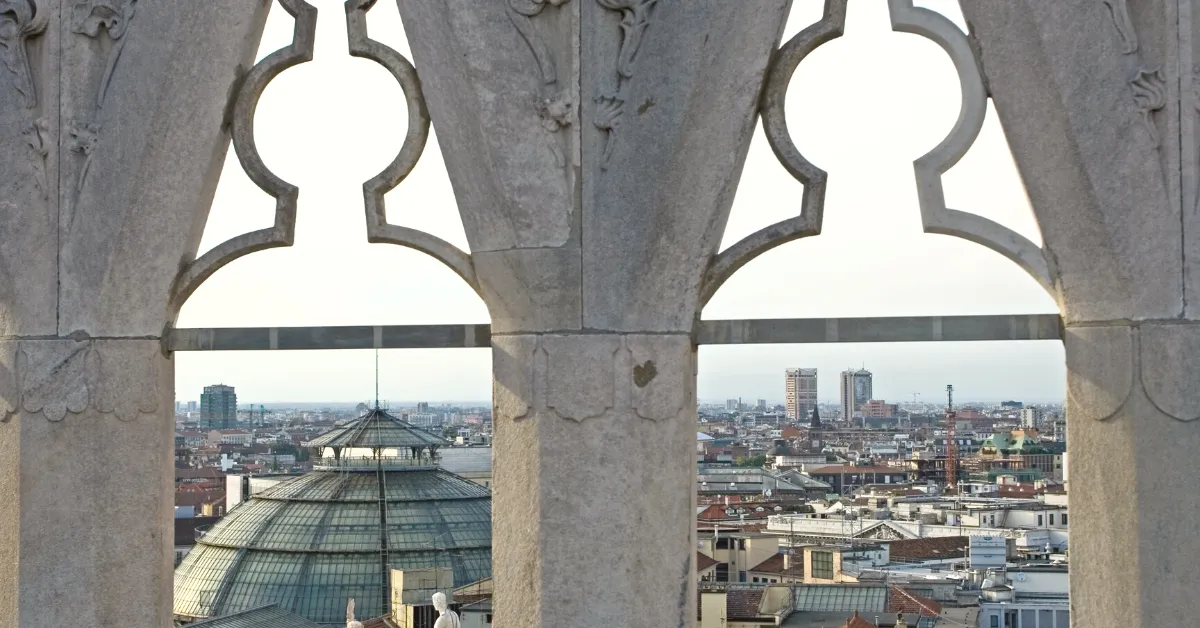 Final Thoughts On Two Days In Milan
This itinerary for a weekend in Milan combines all that's great about the city, giving you glimpses into the past and celebrating its modern culture too.
We hope that it has helped you plan your visit and that you enjoy every moment of your stay.
Visiting Italy soon? Read one of the following guides: